Ant Control
Just like most insects, ants are attracted into a building by (a) the shelter it provides, (b) a source of food, or (c) a source of water. For long term control over most types of ants, removing these initial attractions or blocking access to them is imperative.
Here are the basic steps to removing them:
Identify the ant or ants involved if possible. Feel free to send us a sample and we will identify it for you.
Perform a thorough inspection and note any trails and any colonies.
Treat all OUTDOOR colonies found during the inspection with appropriate measures.
Set up a barrier treatment around the foundation of the home with similar measures.
Use slow-acting ant baits INDOORS to knock out ants that are infesting the structure.
These steps will generally knock out most ant infestations. There is, however, one species of ant that is extremely hard to remove. Fat Cat Exterminators are experts in eradicating the bigger and stronger Carpenter ant.
Controlling the Carpenter Ant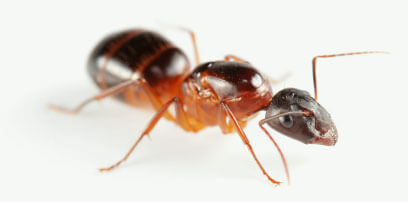 Carpenter ants can be difficult to locate in houses and other structures. Fat Cat Exterminators has the required knowledge and expertise to solve even the most difficult Carpenter Ant problems. Careful inspection of your home from the interior and exterior provides important clues that help our skilled technicians solve your Carpenter ant problems. Our licensed technicians will perform a specialized inspection and specific treatments.
If you're noticing small piles of sawdust-like material, this may be a result of Carpenter Ants. Carpenter Ants don't actually eat wood, but they do tunnel in wood with the goal of enlarging their nest site to accommodate the constant egg laying of the queen.
Structural damage can be caused by Carpenter ants that have gone undetected for long periods of time. They are often found in wall voids, sill plates, corner posts, window frames, door frames, under attic insulation and occasionally in roofs. Carpenter Ants prefer moist wood for nest sites.
Advantage Pest Control has built an excellent reputation for eliminating Carpenter Ants successfully. We have all the skills, knowledge, specialty equipment and tools required to offer the highest level of service at a fair price.
Fat Cat Exterminators is ready to provide a comprehensive program specialized to fit your needs. Please contact us today to schedule an appointment.
Thank you for considering Fat Cat Exterminators as you search for a pest control partner.